Department Of Public Safety
Solano Safe is the official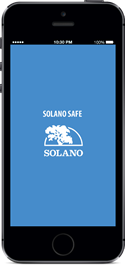 safety app of Solano Community College.
Solano College DPS Office has worked to develop a unique app that provides students, faculty, and staff with added safety on Solano Community College campuses. The app will send you important safety alerts and provide instant access to campus safety resources. Solano Safe is available for Apple iOS and Google Android devices, and can be downloaded for free in the App Store and Google Play.
The Solano Safe app is designed to help students, faculty, and staff:
Access emergency plans detailing specific actions students, faculty, and staff should take in the event of an emergency situation.
Contact on-campus and off-campus emergency personnel.
Access a personal safety toolbox with a flashlight, alarm, and personal safety tips.
Report suspicious activity. Photos can be submitted directly to the DPS Office.
Follow a news feed for safety-related information, such as weather alerts.
Find their way around campus.
Open real-time chat with on-duty deputy, including a mobile emergency "blue light" button that lets users send their location to the DPS Office.
Find student support resources including admissions, counseling, mental health, and other important contacts.
This app will be very helpful for our students, and they seem to agree. Below are a few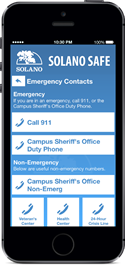 comments from our current students who have had the chance to sample this app:
"I think people will find this app very useful because it has a lot of good safety information and important phone numbers all on your phone,"
said Vanessa Arellano.
"I think it's a very helpful and convenient resource for students on the go, especially for students who take evening classes or are involved in evening
activities," added Mayrani Mojica.
"It seems very useful," said Meghan O'Connell, "It has different emergency phone numbers that I wouldn't normally have. That's nice and reassuring just in case something happens."
"Solano Community College cares about student safety. That's why the college developed this app. I think it has a lot to offer for our students so that we are informed and ready when a critical situation happens," added Student Trustee Jacob Hinkle.
Contact Us for Assistance
Located in Building 1800B
8:30 am – 4:30 pm M-F