Congratulations to our Fall 2022 Scholarship Recipients!
Program Description May 2023
The Solano Community College Scholarship Foundation Fund (SCCSFF) is a non-profit corporation that was formed in 1976 with the purpose of awarding scholarships to Solano Community College students. Scholarship recipients are selected for their academic achievement and their demonstrated potential for excellence during their enrollment at Solano Community College.
The Foundation is governed by a volunteer Board of Directors who both oversee the Foundation's financial affairs and the selection of the scholarship recipients. The Foundation administers two scholarship programs; the "Memorial and Special Endowments" program and the "General Scholastic Achievement" program. Each memorial scholarship has been established to honor and commemorate specific individuals or purposes. Many of the memorial scholarships have designated majors and/or other specific qualifying requirements that determine eligibility for consideration. Because both the memorial and the general scholarships are primarily funded by the investments in the endowment funds, the amounts of the annual scholarship awards vary from year to year.
Generally, students who have completed 24 units of graded courses at Solano with a cumulative GPA of 3.3 or higher are invited to apply for general scholarships during the summer. Because there are other scholarships available that may have different qualifications, we encourage all students to investigate what scholarships are available to them. A single application is used for determining eligibility for both General and Special/Memorial Scholarships. Student essays and transcripts are used to determine the appropriate scholarship categories for individuals.
The Foundation Fund awarded a total of $69,770 to 91 recipients during the 2022 scholarship season.
Scholarship Application
The Fall 2022 scholarship applications are now available. The scholarship application deadline is Friday, September 3, 2022.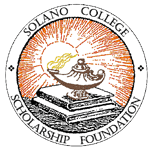 Scholarships can be reviewed and applications submitted via this link: https://solano.academicworks.com/. It is best to use Google Chrome or Internet Explorer web browsers when using the Academic Works web page. Applicants will be asked to upload their most recent transcript. Be sure to open the transcript attachment in the application web page before uploading and make sure not to use any punctuation in the transcript file name, such as periods or dashes. Some scholarships allow applicants without previous college courses to use their high school transcripts and GPA.
Let's encourage all of our students to apply! Every year scholarship money is left on the table because not enough students apply. Scholarships are a great way to help pay for college expenses and many of these scholarships offer more than one award.
If you have any questions, please email scholarships@solano.edu for assistance.
http://solano.academicworks.com
The Solano College Scholarship Foundation is a non-profit corporation that awards scholarships to Solano College students on the basis of academic achievement and demonstrated potential for excellence. The Foundation is administrated by a Board of Directors providing representation from the communities of Solano County.
The goal of the Foundation is the promotion of scholastic excellence by providing a program that will identify, recognize and reward outstanding scholars attending Solano College. Beginning with the three scholarships that were presented in 1974, the program has grown significantly. Scholarships are presented at an annual fall Awards Ceremony held at the end of September or early October. In 2021 awards totaling $51,489 were presented to 83 students.