Integrated Planning Process
Planning
SCC uses an integrated planning process. The aim of this process is to tie together outcomes assessment, budget allocations and projects and activities into a single process. The process occurs on a cycle beginning with outcomes development and assessment moving on to planning and plan implementation before moving back to outcomes.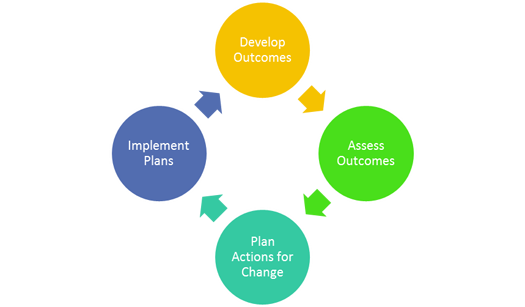 Full details of the process can be found in SCCs Integrated Planning Process Manual found here.
Budget allocation takes place through
Strategic Plan
The strategic plan is a collection of projects that will be completed in the next 3 years organized by SCCs Strategic Goals and Objectives. Strategic Goals and Objectives are a breakdown of the Mission, Vision and Values. While the Mission, Vision and Values are almost intangible, broad statements the strategic goals and objectives attempt to add a little substance and demonstrable action to those statements. This intermediate makes it much easier for individual departments to view the work they are completing as part of a wider mission of the district.
Most departments can relate the work they are doing to specific Strategic Goals and Objectives, and as such, represent a good yardstick by which we can identify areas of strength and weakness in delivering the Mission and working towards the Vision.
The aim of the strategic plan is
Define work and priorities in terms of Strategic Goals and Objectives derived from Mission, Vision and Values
Ensure we are doing the right kind of work to deliver the Mission of SCC
Ensure we are doing enough work to deliver the Mission of SCC
Ensure the work we have done has been successful
Getting Involved in Planning

Planning is open to everyone at SCC. Everyone across campus has ideas for things that need to be achieved that would benefit students. Faculty, Staff and Administrators can get involved in Planning at SCC by suggesting projects that need to be completed.
To get a project included on the Strategic Plan you simply need to complete a Service Area Project Details form and submit to your Dean or Manager. Once the project is approved it will be included in the Strategic Plan.
The project proposal form can be found here.
Guidance on Completing the Service Area Project Form can be found here.
An example of a completed project proposal can be found here.
Once a project is included in the Strategic Plan it will be part of SCCs Accountability process. This means managers will be responsible for advancing the project, seeing it through to completion and evaluating its outcomes. In addition Administrative Leadership Group and Board of Trustees will also periodically review the plan and its progress.
Planning Documents
Strategic Plan
Strategic Goals & Objectives